Professional Social Media Marketing Services to Build
Engagement and Drive More Traffic
Social Media has become the most reliable tool to reach your target audience and promote your products/services. However, to utilize social media effectively, it's crucial to utilize the right social media marketing strategies that help your brand drive more exposure through different social media platforms.
Being one of the leading digital marketing agencies in India, we provide excellent social media marketing services to help businesses engage their customers and get more traffic at the same time. Whether you run an e-commerce store or own a clothing brand, our social media services will help you spread brand awareness and get the desired exposure from your target audience.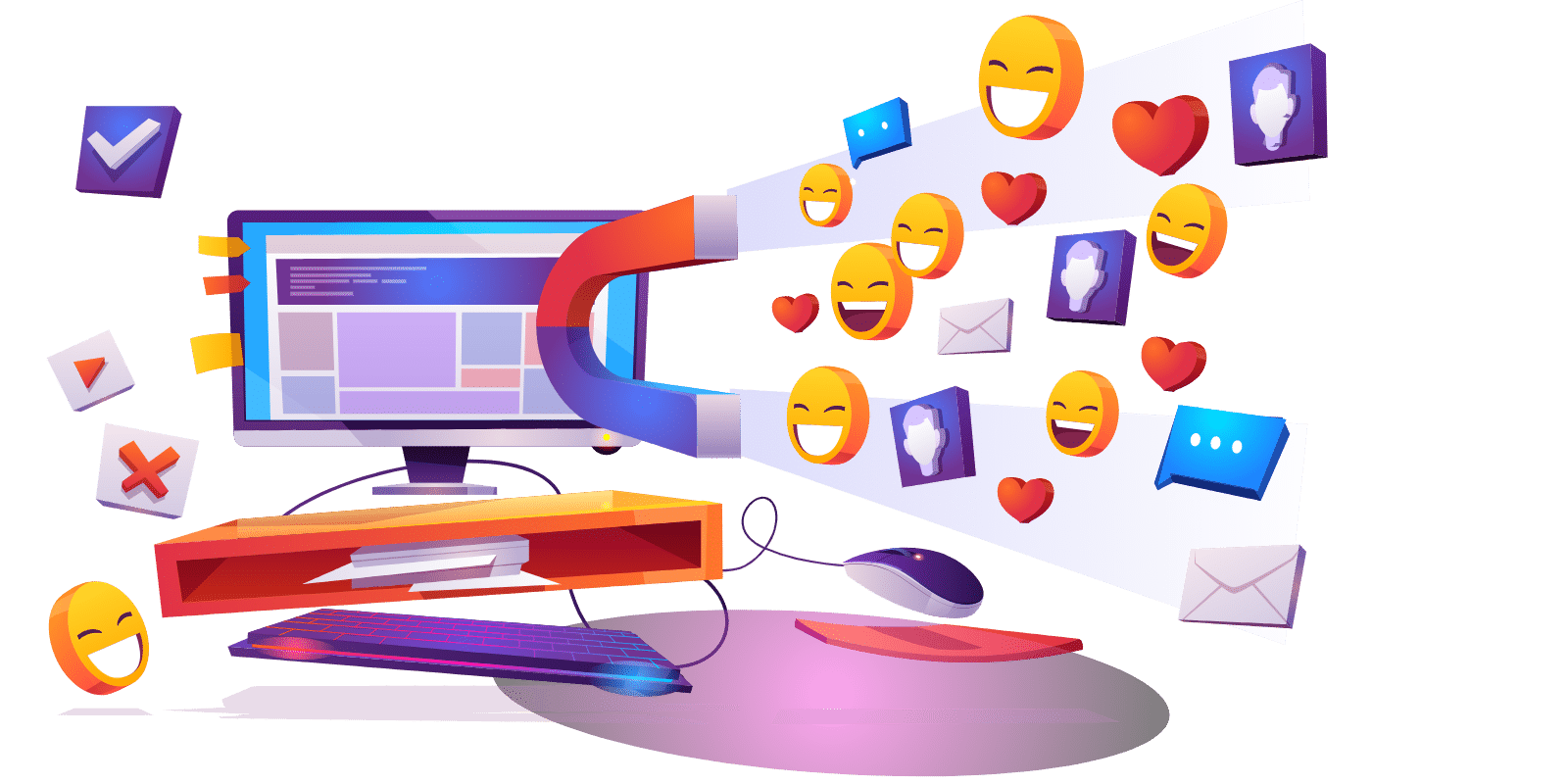 How Being Active on Social Media Can Help Your Business?
It's no secret that social media is dominating the digital market right now. The majority of users spend several hours scrolling through their social media feeds. This gives businesses the perfect opportunity to interact with their potential customers and build effective brand awareness.
As surprising as it may sound, but 72% of customers like to engage with their favorite brand through social media. In such a scenario, if you aren't active on your social media accounts, you'll most likely miss out on several lead generation opportunities.
Here are a few reasons why social media is the most effective marketing tool for any brand.
Spread Brand Awareness and Reach Your Customers More Easily
Target a Wider Audience for Effective Brand Growth
Interact With Your Customers and Build Strong Customer Relations
Scale Your Small Business and Grow Your Brand
Drive Traffic to Your Website
Why Do You Need a Social Media Marketing Agency?
Even though social media can do wonders for your brand, it's not an easy task to achieve the desired goals through social media. You can't expect people to follow your profile by posting random content on your account. It's crucial to publish content that engages potential customers and encourages them to follow your account. Moreover, it's also imperative to consider different analytical factors so that you can know which types of posts drive the highest engagement.
Since managing different social media accounts for your brand can easily become a hassle, it's always a wise decision to hire a social media marketing company such as Webobix. We have a team of experienced social media marketing experts who utilize the best social media practices to improve your online presence. We build custom social media campaigns to make your brand reach its potential audience and get more followers.
Our Social Media Marketing Approach
We follow a dedicated approach to grow the social media presence of our clients.
Assigning a Dedicated Social Media Manager
We start by assigning a dedicated social media manager to your brand. The person will stay in touch with you and analyze your business opportunities. You can contact the manager anytime you want to get a detailed insight of your social media marketing campaign.
Building an Effective Social Media Strategy
The social media manager will analyze your business requirements and build an effective social media strategy accordingly. The idea is to decide which type of content will most engage the potential followers. We'll also analyze your social media insights to develop a dedicated posting schedule so that you can drive the highest engagement through the social media posts.
Develop and Post Engaging Content
Our team of writers and social media experts will then proceed with the execution. We'll develop engaging posts using different editing tools such as Photoshop and Canva and write compelling captions to engage the followers. We'll then post the content on different social media channels and monitor its real-time engagement.
---
Why Choose Webobix as Your Social Media Marketing Partner?
We have helped hundreds of clients grow their social media presence and engage more people by building custom social media marketing campaigns. Having years of experience working in the industry, we understand what it takes to make your social media accounts reach the right customers and drive more brand exposure.
Here are a few factors that make us the best social media marketing agency for your brand
Affordable Social Media Marketing Services
Original Social Media Posts to Maintain Authenticity
Detailed Competitor Analysis
Experienced Social Media Managers
Daily Social Media Monitoring and Detailed Reporting
Social Media Ad Management
---
So, ready to get more exposure through social media? Share your business objectives with our experts and let them get back with a custom quote.